Preparation before performing Aqiqah in the Holy Land of Mecca
When performing aqiqah in the Holy Land of Mecca, preliminary preparations are very important to ensure that all matters can be carried out smoothly. First, the first step that should be taken is to make the right decision regarding the date of execution of aqiqah. When choosing a date, it is important to take into account factors such as the appropriate time, for example choosing sunnah days such as the 7th, 14th or 21st day of birth. Sheikh Zakariyya al-Ansari Rhm (died 926H) mentions in his book, the time to perform aqiqah starts after the birth of the baby until the age of puberty. (See: al-Ghurur al-Bahiyyah, 5/171)
Based on another hadith narrated by Buraidah Bin Husoib al-Aslami RA,
Al-Aqeeqah تُذْبَحُ لسَبْعٍ, اوْ لِأَرْبَعَ عشرَةَ, اوْ لِإِحْدى وعشرينَ
It means: Aqiqah slaughter is done on the seventh day, or the 14th day or the 21st day.
History of al-Baihaqi (19771)
Originally, it was circumcised to make the seventh day. However, if unable, do it on the 14th day. If not able too, do it on the 21st day. If you don't have time, do it on any day you have time. This is also the view expressed by the Egyptian Dar al-Ifta'
Reference: https://muftiwp.gov.my/artikel/al-kafi-li-al-fatawi/4292-al-kafi-1646-adakah-boleh-melakukan-aqiqah-pada-hari-ke-5-kelahiran-bayi
Then, have a clear understanding of the procedures and demands of aqiqah in Mecca. This includes knowing the conditions that need to be followed, such as the type of aqiqah animal that is allowed. With meticulous preparation, you will be able to perform aqiqah calmly and solemnly in the Holy Land of Mecca.
The process of implementing Aqiqah in the Holy Land of Mecca
For Muslims who want to perform aqiqah worship in the Holy Land of Mecca, the implementation process is a step that must be followed carefully. To perform aqiqah in the Holy Land of Mecca, you as a customer should manage the payment through a legitimate agency. This agency will help in arranging all matters related to aqiqah, including getting goats that meet the requirements such as being old enough and healthy, performing slaughtering, and managing the distribution of aqiqah meat to those in need. The payment process is carried out carefully and through authorized channels to ensure that aqiqah is obtained in accordance with Sharia requirements.
In addition, it is also important to understand that payment for the implementation of aqiqah does not only involve the cost of slaughtering a goat, but also includes other costs such as delivery for distribution, documentation, wages and also related services. By performing aqiqah in the Holy Land of Mecca, Muslims can experience the blessing and perfection of their aqiqah worship by slaughtering aqiqah animals in a holy place that is recognized throughout the world. Therefore, it is important to ensure that the payment is made correctly and through a legitimate channel to successfully implement aqiqah in the Holy Land of Mecca.
Aqiqah4u.my is one of the Aqiqah and Qurban agencies in the Holy Land of Mecca and is certified, Aqiqah4u.my through Arovis Global Sdn Bhd has close cooperation with the owners of farms in Mecca and has a certificate of cooperation ownership certified by the Government of Saudi Arabia, even the owner of Arovis Global Sdn. Bhd also has a good relationship with the Malaysian Consulate in Jeddah.
Registration and payment procedures for the implementation of Aqiqah Makkah
The registration procedure for Aqiqah in the Holy Land of Mecca is an aspect that cannot be ignored. To perform aqiqah in Mecca, you need to go through some important registration procedures. First, the first step you need to do is to fill in important information such as Name of Aqiqah, Date of Aqiqah as well as agreeing to the Salam & Wakalah Agreement which coincides with the Sharia, for this option of aqiqah package in Mecca, you can register at https://aqiqah4u.my/a-sa/daftar/daftar-aqiqah-sa/ Once the registration is complete, you will be given more information about the process via email and sms notification to the phone number you provided during registration.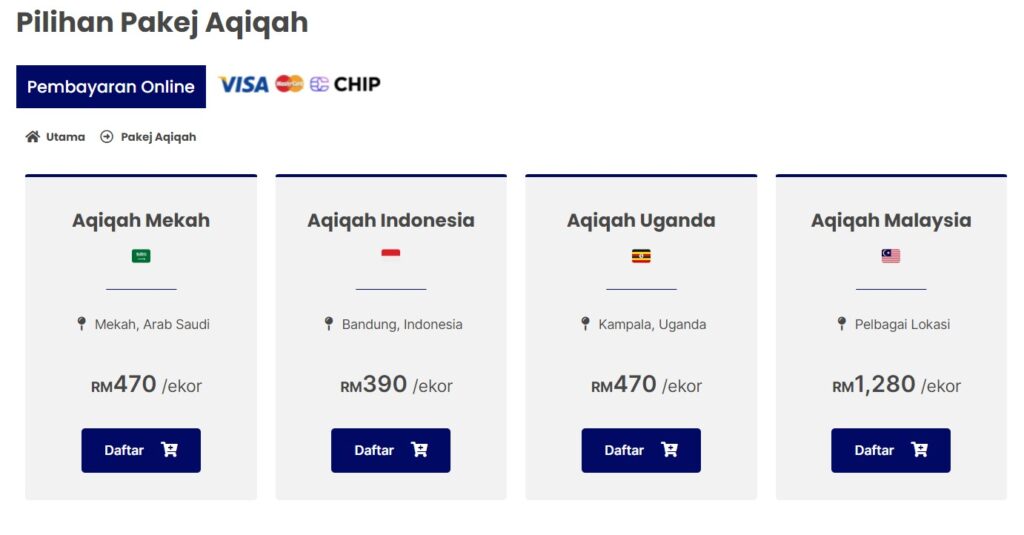 For the payment procedure, you can choose the appropriate payment plan, among the payment plans provided by Aqiqah4u.my are such as direct payment through FPX Securepay, you can make payment by choosing the list of banks provided, but this payment mode is only for customers who have Malaysian bank account only.
Apart from that, you can also choose an installment payment plan with an interest rate of 0% and Shariah compliant offered by Atome, even if you are a first-time customer using Atome, you will be given a RM15 discount (As long as this promotion is still valid from Atome) , during the registration time, you only pay the first amount before paying off the next payment according to the schedule that will be given. For example, if you choose Aqiqah Mecca with a cost of RM470, you only need to pay RM157 for the first payment during registration.
You can also use a Visa or Mastercard Credit or Debit Card to make a payment for Aqiqah Mecca services, this Payment Mode is supported by Chip In which is one of the secure payment gateways, even customers from abroad such as from Singapore and Brunei Darussalam can also make payments through this payment option.
In conclusion, registration and payment for aqiqah in the Holy Land of Mecca is important in ensuring a smooth and satisfactory implementation. Through regular registration steps and safe payment is important for every customer, the Payment Mode provided by Aqiqah4u.my is guaranteed by Bank Negara Malaysia.
Implementation of Meccan Aqiqah and Proof of Slaughter
Every performance of Mecca Aqiqah or any aqiqah package offered by Aqiqah4u.my (see: https://aqiqah4u.my/pakej-aqiqah) will get evidence of the slaughter through video and pictures of the slaughter. Each goat's name will be read and a prayer will be read for the nominee of the aqiqah to ensure that the trust has been completed properly.
You as a customer do not have to wait for Aqiqah4u.my to send videos and photos manually like via Whatsapp, this is because at Aqiqah4u.my, you will receive SMS and email notifications automatically after the aqiqah worship video is uploaded to the Aqiqah4u.my Cloud Server, This proof of worship can be accessed at any time and will not be lost as long as this Cloud Server is still functioning properly, each customer will be given a Unique Search Code generated by the system to facilitate access to their respective worship status. To access this system, you just need to surf https://aqiqah4u.my/semak-status

To make sure there are no access problems, you need to check the system on the device you are using for non-blocking "cookies" or "Disable Cross-Site" setting, this is because the Aqiqah4u.my Status Check System requires permission from the device to connect data from the Cloud Server to be displayed to customers. Often this happens to customers who use Apple products and browse using the Safari browser. Therefore we recommend that customers browse this system using Google Chrome or Mozilla Firefox which are more stable and open to "Cookies".
If you still have problems, you can contact Aqiqah4u.my Customer Service for any assistance.
How to distribute Aqiqah meat in the Holy Land of Mecca
The Makkah aqiqah distribution process carried out with Aqiqah4u.my will be carefully processed, the aqiqah meat will be distributed raw to the asnaf and the poor and those in need, Aqiqah4u.my as the best aqiqah and qurban agency has accurate information and data and areas for distributing aqiqah meat, among the beneficiaries of this mecca aqiqah are the poor such as the African and Burmese communities in Share' Sittin and Ka'akiah. This perfect and best mecca aqiqah meat distribution not only helps those in need, but also gives pleasure to your heart as a customer who has performed this mecca aqiqah worship.
In addition, there are also agencies to distribute Aqiqah meat to stakeholders who are responsible for processing and distributing the meat to the needy in the Holy Land of Makkah, often Aqiqah4u.my will work with the Islamic Development Bank (IDB) of Makkah in the distribution process. involving large quantities, for example during the Hajj or Qurban season, with this orderly business, you will also get relief because the distribution process is very orderly. In conclusion, the best Aqiqah meat distribution process in the Holy Land of Mecca provides you with the convenience to perform their aqiqah or qurban worship with full repentance and sincerity.
In conclusion, preparation before performing Aqiqah in the Holy Land of Mecca is important to ensure that everything is well organized. The process of performing Aqiqah in Mecca also needs to be followed carefully according to the procedures that have been set. Registration and payment and the provision of evidence and distribution of Aqiqah also need attention. The management and supervision of Aqiqah by the local authorities in Mecca is very important to ensure that all affairs run smoothly. In addition, various options are available to distribute Aqiqah meat in the Holy Land of Mecca. Giving to the community and social practice while distributing Aqiqah in Mecca is also important to help those in need. Hopefully this practice of Aqiqah can be done well and benefit all parties.
To register aqiqah for the cute one you love in Mecca, register directly at https://aqiqah4u.my/a-sa/daftar/daftar-aqiqah-sa/